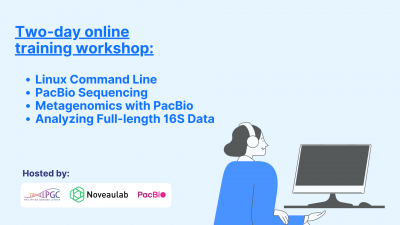 The PGC Core Facility for Bioinformatics, together with Noveaulab and PacBio, are conducting a two-day online training workshop on the bioinformatics analysis of 16S metagenomic data using PacBio reads. This event will be held on April 18-19, 2022 (Mon-Tue) at 1:00-5:00 PM. Interested individuals from public and private colleges, universities, and research institutions in the Philippines are invited to apply.
In this workshop, participants will learn the applications of PacBio HiFi Data generated through the process of circular consensus sequences (CCS) in metagenomics applications. We will show an example of assembling HiFi WGS data using community tools. Then, the workshop will guide the participants to bring a set of 16S mock community data from FASTQ to taxonomy assignment and visualization using Qiime 2.
Workshop topics:
Linux Command Line

PacBio Sequencing

Metagenomics with PacBio

Analyzing Full-length 16S Data
Eligibility

:
Familiarity with basic concepts on next-generation sequencing

Engaged or planning to be engaged in research on genomics or metagenomics, particularly with long-read sequencing data

Beginner or intermediate bioinformatician
Participation requires a personal computer (laptop or desktop) with a reliable internet connection.
Application Process:
Interested applicants must fill out the following application form. The deadline for the application is Tuesday March 29, and accepted applicants will be notified on Tuesday April 5. Accepted applicants will be charged a workshop fee of Php 2,000, to be paid to the Philippine Genome Center, in order to attend the workshop. (Payment details will be included with the notification of acceptance.)
For questions about this workshop or inquiries about services offered by the Core Facility for Bioinformatics, email bioinformatics@pgc.up.edu.ph.