Genomics for a better Philippines
---
The Philippine Genome Center (PGC), a genomics-focused multidisciplinary research unit of the University of the Philippines (System) is located at the PGC Building, A. Maria Regidor Street, National Science Complex, University of the Philippines, Diliman, Quezon City. PGC offers a full range of DNA sequencing services from single gene sequencing to high-throughput sequencing and a suite of Bioinformatics services from scripting to full project workflows. In fulfilling its mandates, the PGC welcomes collaborations on research, capacity building, and institutional linkages for the development of genome-based applications.
---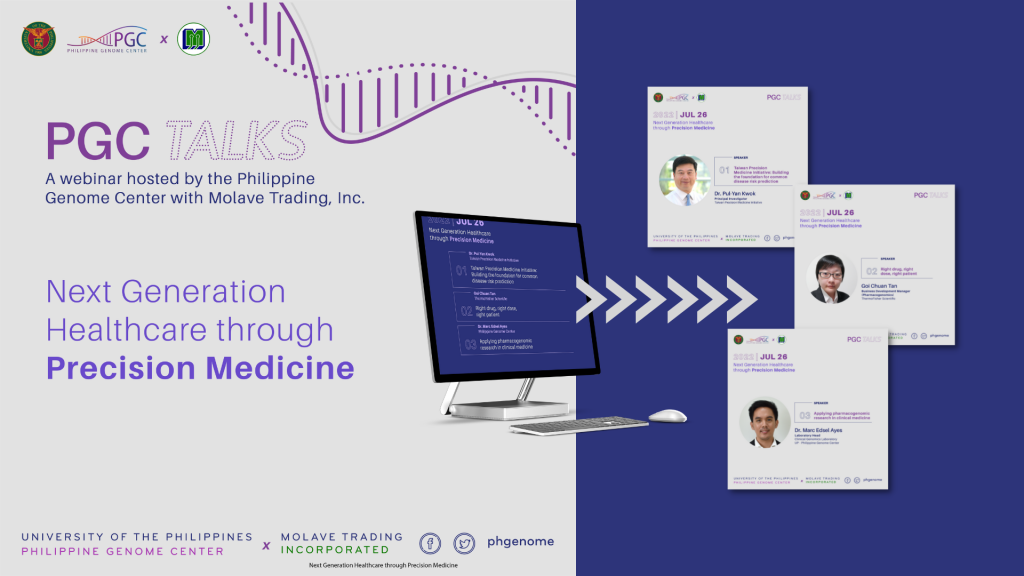 Next Generation Healthcare through Precision Medicine July 26, 2022, Tuesday 2:00 pm to 4:00 pm, Manila Time A collaborative webinar between the Philippine Genome Center and Molave Trading Inc. which aims to introduce microarray and its applications in precision medicine and pharmacogenomics. This webinar is free and open to the public. Registration will be open until July 25, 2022. Pharmacogenomics takes into consideration how genetic variations can affect and thus predict therapeutic responses with the ultimate goal of determining ideal drug candidates and appropriate doses specific to the patient. This age of "personalized medicine" has many implications ranging from applicability, replicability, reliability, and accessibility, which will be discussed in the context of pharmacogenomics in the Philippine setting. Register For questions about this webinar, email
[email protected]
or
[email protected]
For more information about PGC and its services, visit this page.  Previous Next ...
Read More
---