In 2008, the Philippines hosted the Human Genome Organization Conference in the Asia Pacific. After this conference, University of the Philippines (UP) President Emerlinda R. Roman, created a committee to study the feasibility of setting up a Genome Center in the University. The committee consisted of then UP Vice President for Academic Affairs Amelia Guevara (Chair), Dr. Gisela Concepcion of the Marine Science Institute, UP Diliman; Dr. Carmencita Padilla of the UP College of Medicine, UP Manila; and Dr. Cynthia Saloma of the National Institute of Molecular Biology and Biotechnology, UP Diliman. The committee visited several genome centers in the region (Hong Kong, Taiwan, Singapore) and the United States to obtain insights towards the development of a Philippine Genome Center (PGC).
During the development phase of the PGC, several major events led to its establishment – the Dengue outbreak that reached alarming rates, the SARS outbreak in Hong Kong and the H1N1 outbreak in Mexico, reinforcing the importance of genomics in providing new solutions.
An audience with President Gloria Macapagal-Arroyo in July 2009 paved for the first two grant awards of PGC – Dengue diagnostic test and H1N1 surveillance network through the Department of Science and Technology.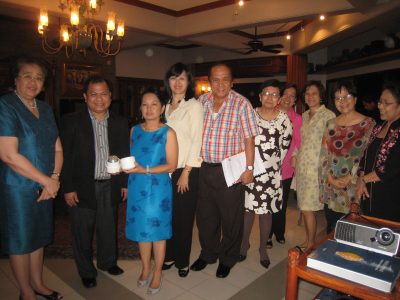 At the 1246th Board of Regents Meeting on July 31, 2009, the proposal for the establishment of the Philippine Genome Center was approved. It was established as a multidisciplinary institution that will combine basic and applied research for the development of health diagnostics, therapeutics, DNA forensics and preventive products, and improved crop varieties in the country.
PGC was formally launched on November 28, 2011 at the Shangri-la Hotel in Makati City. In his keynote address DOST Secretary Mario G. Montejo shared that genomics can be a "game changing tool that can offer enormous rewards to the Filipinos" hence DOST will focus on genomics program on health, agriculture, livestock, fisheries and biodiversity. Two years after, PGC's DNA Sequencing Core Facility was launched on September 24, 2013. Then was followed by the official launch of the Core Facility for Bioinformatics on April 14, 2014.