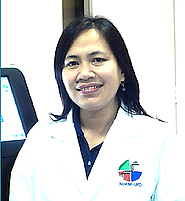 Program Director, PGC Agriculture, Livestock, Fisheries, Forestry
Laboratory Manager, PCARI-Shared Genomics Core Laboratory
Program Director, DNA Sequencing Core Facility, Philippine Genome Center (01 Sept. 2016-31 Aug. 2017)
PhD, Nagoya University, Japan
Assistant Professor, National Institute of Molecular Biology and Biotechnology
University of the Philippines Diliman
Research Areas: Molecular biology and biochemistry of insecticide resistance, Functional genomics
---
Dr. Ma. Anita Mascareñas-Bautista is an entomology graduate from University of the Philippines Los Baños. She obtained her master's and doctorate degree from Nagoya University, Japan under the MONBUKAGAKUSHO (Japanese Government) scholarship and went to pursue postdoctoral studies at the Ohio Agricultural Research and Development Center (OARDC), The Ohio State University, USA. She was a former research staff of BIOTECH-UPLB and is now employed as a faculty member of the National Institute of Molecular Biology and Biotechnology (NIMBB), College of Science, University of the Philippines Diliman. She also served as Laboratory Manager of the Philippine Genome Center DNA Core Sequencing Facility (PGC-DSCF).
​
Dr. Bautista specializes in molecular biology and biochemistry of insecticide resistance, and functional genomics. Some of her published papers under these fields include:
​
1. BAUTISTA, M.A.M., MIYATA, T., MIURA, K., TANAKA, T., 2009. RNA interference-mediated knockdown of a cytochrome P450, CYP6BG1, from the diamondback moth, Plutella xylostella, reduces larval resistance to permethrin. Insect Biochemistry and Molecular Biology 39:38-46.
​
2. BAUTISTA, M.A.M., MITTAPALLI, O., HOY, C. AND MICHEL. 2013. Single nucleotide polymorphism discovery in the diamondback moth. Molecular Ecology Resources 13:158-159.
​
3. BAUTISTA, M.A.M., BHANDARY, B., WIJERATNE, A.J., MICHEL, A.P., HOY, C.W., AND MITTAPALLI, O. 2015. Evidence for tradeoffs in detoxification and chemosensation gene signatures in Plutella xylostella. Pest Management Science 71(3):423-432.
​
Dr. Bautista currently handles research projects involving transcriptome and genome analyses of termites and selected insect pests of coconut and rice. She is also highly involved in the genome and transcriptome analyses of an insect parasitoid, stingless bees, plant pathogens, and Philippine coconut varieties. Additionally, Dr. Bautista actively reviews for several international journals: Scientific Reports (Springer Nature), Molecular Ecology (Wiley), Pest Management Science (Elsevier), Bulletin of Entomological Research (Cambridge); The Philippine Entomologist; The Pest Science (Springer); European Journal of Entomology; Entomologica Experimentalis et Applicata (Wiley); and Tropical Plant Biology (Springer).