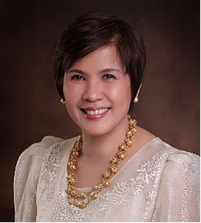 Dr. Eva Maria C. Cutiongco-de la Paz is the Vice Chancellor for Research, University of the Philippines (UP) Manila and the Executive Director of the National Institutes of Health. She finished her Doctor of Medicine degree from the UP College of Medicine in 1989 and completed her Pediatric residency at the Philippine General Hospital in 1992. She had her research fellowship in Molecular Genetics at the International Center for Medical Research at the Kobe University Graduate School of Medicine in Japan and took her subspecialty training in Clinical Genetics at The Hospital for Sick Children, University of Toronto, Canada. She was board certified as a Fellow by the Canadian College of Medical Geneticists in 2000. She is also currently the Program Director for the Genomics Health Program of the Philippine Genome Center. Her current research interests include genetics of monogenic and complex genetic conditions in the Filipino population such as birth defects, cancer, diabetes mellitus, X-linked Dystonia Parkinsonism as well as population genetics, particularly, genetic diversity studies on Indigenous Peoples.
---
SELECTED PUBLICATIONS
RL Santos-Cortez, CM Chiong, MR Reyes-Quintos, ML Tantoco, Wang X, Abbe I Acharya,A, AP Giese, JD Smith, EK Allen, B , Li, EM Cutiongco-de la Paz, et al Rare A2ML1 variants confer susceptibility to otitis media. Nature Genetics 47, 917–920 (2015) doi:10.1038/ng.3347.
Cutiongco-de la Paz E, Ngelangel C, Pontejos Y, Padilla C, Silao C, Cortez RLS, Rocamora F, Cabungcal A, Yang N, Vicente F, Javelosa M. Genetic Polymorphisms in CYP1A1, GSTM1, GSTP1, GSTT1, NAT1 and NAT2 and Oral Cavity Cancer Risk among Filipinos. ACTA Medica Philippina Vol 47:4, 2014.
Chiong CM, Cutiongco-de la Paz EM, Reyes-Quintos MRT, Tobias CAM, Hernandez K, Santos-Cortez RLP. GJB2 variants and auditory outcomes among Filipino cochlear implantees. Audiol Neurotol Extra 3:1-8, 2013.
Padilla C and E Cutiongco de la Paz, C. Genetic Services and Testing in the Philippines (2012) J Community Genet. 2013 July; 4(3): 399–411. Published online 2012 July 22. doi: 10.1007/s12687-012-0102-4
The HUGO Pan-Asian SNP Consortium "Mapping Human Genetic Diversity in Asia", Science Vol 326, No. 1, 2009. (Authors from the Philippines : Eva Maria Cutiongco-de la Paz, Maria Corazon A. De Ungria, Frederick C. Delfin, Carmencita D. Padilla)
Rody G Sy. Eva Maria C. Cutiongco-de la Paz, Felix R. Punzalan, Ronald S. Santos, Francis B.Geronimo, and Rogelio V. Tangco. "Human Cholesteryl Ester Transfer Protein (Taq1B) Polymorphism among Filipinos with Cardiovascular Risk Factors", Journal of Atherosclerosis and Thrombosis Vol 14. No.3, 2007
F.E.R. Punzalan, R.G. Sy, R. Santos, E.M. Cutiongco, S. Gosengfiao, E. Fadreguilan, A. Laurie, P. George Low Density Lipoprotien Receptor (LDLR) Gene Mutation Among Filipinos with Familial Hypercholesterolemia, Journal of Atherosclerosis and Thrombosis. 2005; 12(5):276-83.
Matsuda ML, Liede A, Kwan E, Mapua C, Cutiongco EMC, Tan A, Borg A, Narod S. BRCA 1 and BRCA 2 Mutations Among Breast Cancer Patients from the Philippines. International Journal of Cancer 98, 596-603, 2002.
---
CURRENT GRANT FUNDING
Department of Science and Technology (DOST) Philippines – Pharmacogenetic Studies on Some Commonly Used Drugs for Hypertension, Dyslipidemia and Coronary Artery Disease among Filipinos – 800,000 USD Period 2013-1026
DOST – Correlation of Candidate Genomic Variations for Susceptibility and Risk Assessment of Type 2 Diabetes Mellitus and its Related Medical Conditions- 800,000 USD Period 2014-2017
Newborn Screening Reference Center – Characterization of Mutations through Whole Gene Sequencing of the Glucose-6-Phospate Dehydrogenase Gene among Filipino Children with G6PD Deficiency – 50,000 USD Period 2014-2015
US NIH – Subphenotyping and genetics in oro-facial cleft families in the Philippines; Period 2009-present
---