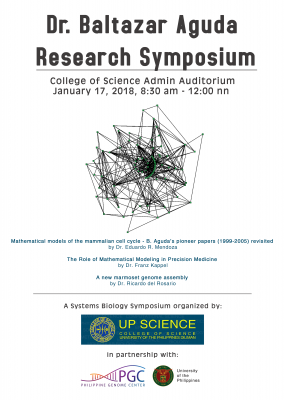 The UP College of Science in partnership with the Philippine Genome Center is organizing a Systems Biology symposium on January 17, 2018 at the UP CS admin auditorium from 8:30am-12:00nn. The event is titled the "Dr. Baltazar Aguda Research Symposium" in recognition of Dr. Aguda's contributions in Systems Biology. Among the speakers for the symposium are Dr. Franz Kappel from the Institute of Mathematics and Scientific Computing, Karl-Franzens-Universität Graz; Dr. Ric del Rosario from the Stanley Center for Psychiatric Research, Broad Institute; and Dr. Eduardo R. Mendoza from the Max Planck Institute of Biochemistry and Ludwig Maximilians University Munich, Germany.
Program:
8:30 am – 9:00 am
Welcome Remarks by Dr. Neil Andrew D. Bascos, Deputy Executive Director, Philippine Genome Center
Introduction: Dr. Gisela P. Concepcion, Marine Science Institute
09:00 am – 10:00 am Dr. Eduardo Mendoza, "Mathematical models of the mammalian cell cycle –B. Aguda's pioneer papers (1999-2005) revisited"
10:00 am – 11:00 am Dr. Franz Kappel, "The role of Mathematical Modeling in Precision Medicine"
11:00 am – 12:00 nn Dr. Ricardo del Rosario, "A new marmoset genome assembly"
The symposium is open to researchers, faculty, and students. For inquiries and registration, interested attendees may email Lexie Zamora at csgrad@science.upd.edu.ph, csgradupd@gmail.com or call 981-8500 loc 3803.