PGC conducts genomics and bioinformatics training for ASEAN-member countries.
The Philippines Genome Center was tasked by the Department of the Science and Technology to conduct training on genomics and bioinformatics for participants coming from ASEAN countries to strengthen academic ties with researchers, scientists from Cambodia, Lao PDR, and Myanmar (CLM).
The participants will be given hands-on exercises on Library Preparation, Next-Generation Sequencing, and Bioinformatics.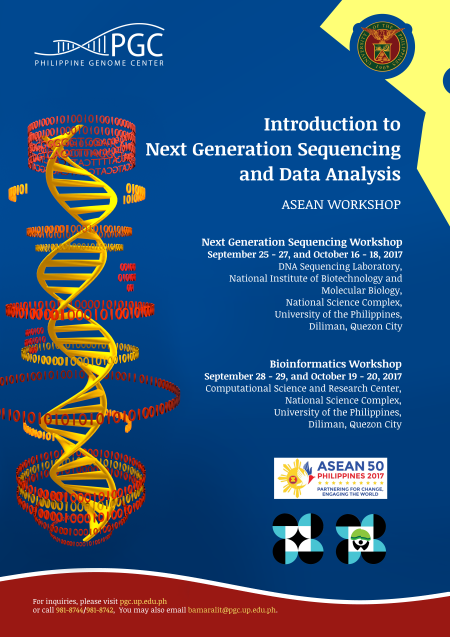 Background
At the 9th Informal ASEAN Ministerial Meeting on Science and Technology (IAMMST-9) held in October 2016, the Philippines expressed interest in offering genomics training to ASEAN experts. This initiative is part of the ASEAN-help-ASEAN scheme for Cambodia, Lao PDR, and Myanmar (CLM). To achieve this goal, the Philippines through the Philippine Genome Center will be extending the training programs on genomics and bioinformatics to representatives from CLM.
In addition, a participant from South Sudan will also join in the training upon the request of South Sudan vice president during his visit to the country last June 2017, as well as two participants from Brunei upon the request at the ASEAN COST Sub-Committee meeting on Biotechnology last May 2017.