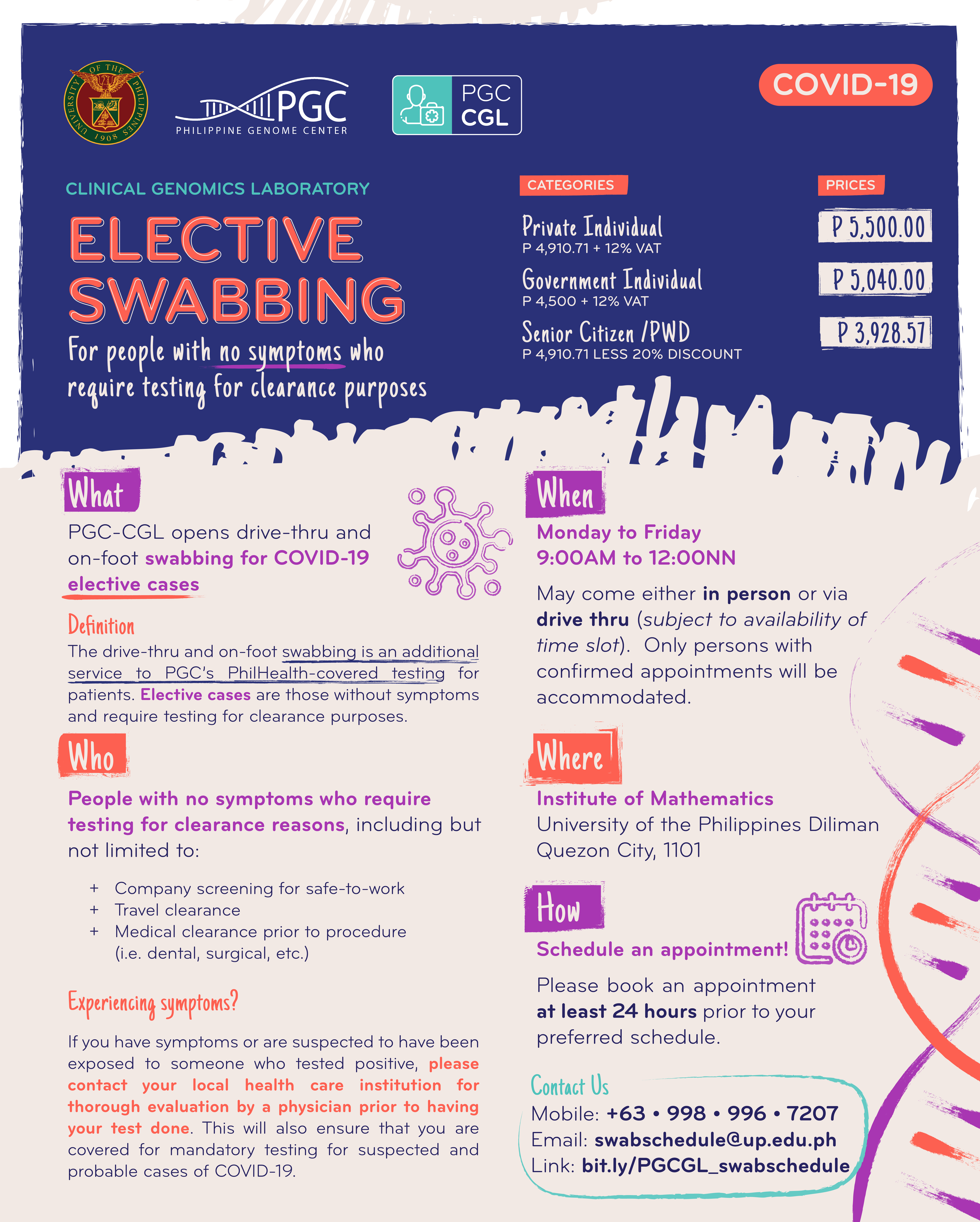 In addition to its mandated COVID-19 testing (RT-PCR) for PhilHealth covered patients, the Philippine Genome Center's Clinical Genomics Laboratory (CGL) / COVID-19 Testing Lab will open its Drive-thru & On-foot Swabbing Operations on October 12, 2020, Monday. The drive-thru and on-foot service will cater to private testing requests for elective cases. Elective swabbing applies to individuals without symptoms or those requiring testing as part of routine clearance. It will include clearance purposes such as for work, travel, and/or medical clearance (i.e. dental, surgical, etc.).
A prior appointment is required to schedule a swab test through the drive-thru and on-foot swabbing service. Doing so prevents overcrowding and ensures that proper biosafety and security protocols are followed. Appointments are to be booked at least 24 hours before the preferred schedule. To schedule a swab test, individuals or companies must prepare a filled out Case Investigation Form (CIF) and send a copy together with their contact information and complete address to swabschedule@up.edu.ph or 09989967207 (Office Hours Only 8am-5pm).
The swabbing schedule will run from Mondays to Fridays, 9am to 12nn with the swab booth located at the Institute of Mathematics, National Science Complex, University of the Philippines, Diliman, Quezon City.
Important notice:
As per the Department of Health, individuals who show symptoms of fever and cough should seek immediate medical attention from a qualified health professional.
DOH Hotline (COVID-19 Inquiries):
02 -894-26843
1555
One Hospital Command Center Hotline (Hospital/Healthcare facility locator):
0919-977-3333
0915-777-7777
(02) 886 505 00
Visit this page for more information on requesting a swab test from PGC: http://bit.ly/PGCGL_swabschedule
Frequently Asked Questions (FAQs): https://bit.ly/PGC-COVID-19-lab-FAQs
---
PGC's COVID-19 lab has been mandated to perform testing for patient populations and healthcare workers eligible for free testing under the DOH expanded COVID19 testing guidelines.