By Kevin T. Cruzado
Representatives from the Philippine Genome Center attended the 44th Philippine Society of Biochemistry and Molecular Biology (PSBMB) annual convention last November 27-30, 2017 at the Taal Vista Hotel, Tagaytay City.
The opening programme was led by the master of ceremonies, Dr. Cynthia P. Saloma. With the year's theme: "Biochemistry and Molecular Biology: From Niche to the Nation", the convention tackled an array of topics in the areas of (1) Health and Wellness, (2) Agro-fisheries, (3) Environment and Biodiversity, (4) Microbes and Biotechnology, and (5) Biochemical Education. In addition to the series of plenary and concurrent lectures, the convention included trade exhibits, poster exhibits participated in by more than 100 scientific poster presenters, and 5 oral presentations from the finalists of the annual Young Scientists Forum.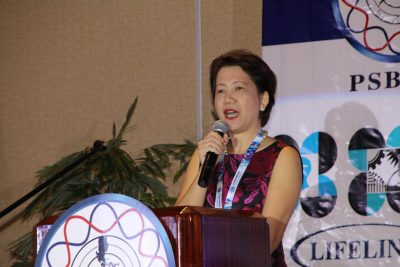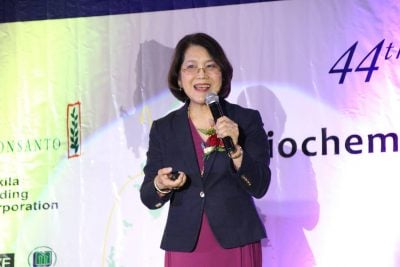 This year, PSBMB recognized the achievements of two members of the Philippine Genome Center. Dr. Cynthia P. Saloma, the Executive Director of PGC, received the Distinguished Service Award alongside Dr. Grace Fe B. Yu of the Department of Biochemistry, University of the Philippines, Manila. Another PGC member, Dr. Gisela P. Concepcion, who was also the former Program Director of the Biodiversity Program of PGC, received the Clara Y. Lim-Sylianco Award; she consequently delivered a lecture on mollusk research in the context of accelerating drug discovery and development.
About PSBMB
The PSBMB, formerly known as the Philippine Biochemistry Society (PBS) was established in August 1973 by a group of biochemistry educators to foster the development of biochemistry in the country.
Since 1973, the PSBMB has been a member of the Federation of Asian and Oceanian Biochemists and Molecular Biologists (FAOBMB; formerly FAOB) and also represents the Philippines in the International Union of Biochemistry and Molecular Biology (IUBMB; formerly IUB).