Date:
30-31 July 2016
Venue:
Ridgewood Hotel (http://www.ridgewoodhotel.com/)
Sponsors:
UP Baguio & Philippine Genome Center
Primary Organizers:
Rosemary Guttierez (Dean, UPB College of Science)
Baltazar D. Aguda (Executive Director, Philippine Genome Center)
Overall Coordinator:
Rachell Bacsa, PGC (rsbacsa@up.edu.ph)
---
GOALS
To bring together a group of Filipino scientists who are active or plan on actively working in the research area of virus-host immune modeling, in an environment that is conducive to open and stimulating discussions. It is hoped that the participants will be motivated to initiate plans for future collaborative research activities such as organizing conferences, writing grant proposals and publishing papers.
---
PROGRAM
Saturday, 30 July
12:00-2:00 pm: Lunch
2:00-3:00 pm: Registration of participants at Workshop Venue; Small merienda; Participants get to know each other
3:00-3:10 pm: Welcome message from Rose Guttierez
3:10-3:30 pm: Introduction of the Workshop by Baltz Aguda
3:30-4:00 pm: A primer on the Influenza Virus (Brian Schwem)
4:00-4:10 pm: Break
4:10-4:40 pm: A primer on the Dengue Virus (Raul Destura)
4:40-4:50 pm: Break
4:50-5:20 pm: A primer on the HIV virus (Edsel Salvana)
5:20-6:30 pm: Discussion (70 mins)
6:30-9:00 pm: Dinner
9:00-11:00 pm:
Discussions of recent models of virus-host immune system models (re: the reading list emailed earlier).
Overviews of the papers to be given by (10 mins each):
Dexter Indong (Dengue)
Johnrob Bantang (HIV)
Jomar Rabajante (Influenza)
Sunday, 31 July
7:00-9:00 am: Breakfast
9:00-11:45 am:
Discussion:
-Are there ideas on how to modify and improve current virus-host immune system models?
-How do we incorporate knowledge of the viral genomes into the mathematical models?
-Were participants able to agree to collaborate on future projects inspired by this workshop?
-Are there plans to write research grant proposals?
11:45 am-1:00 pm: Lunch & Departure
---
Final List of Attendees
UP Los Banos
Jomar Rabajante; jfrabajante@up.edu.ph
Mark Jayson Cortez; jaysoncortez_29@yahoo.com
Christian Alvin Buhat; Buhat.alvin@gmail.com
UP Diliman
Baltazar Aguda; bdaguda@gmail.com
Johnrob Bantang; johnrob.bantang@gmail.com
Henry Adorna; hnadorna@dcs.upd.edu.ph
JP Maulion; jmaulion@nip.upd.edu.ph
Francis Tablizo (PGC Bioinformatics Core); fatablizo@gmail.com
El King Morado (PGC Bioinformatics Core); elkingmoradoking@gmail.com
Rachell Bacsa (PGC Admin staff); rsbacsa@up.edu.ph
Katie Raymundo (PGC Admin staff); kfraymundo@pgc.up.edu.ph
UP Baguio
Dexter Jane Indong – Math; dlindong@yahoo.com
Priscilla Macansantos – Math; psmacansantos@up.edu.ph
Rosemary Gutierrez – Biology; rmgutierrez@up.edu.ph
Roland Hipol – Biology; rmhipol@up.edu.ph
Rocel Amor Ortega – Biology; rportega1@up.edu.ph
UP Manila
Brian Schwem; beschwem@gmail.com
Raul Destura; raul.destura@biotechmanila.upm.edu.ph
Edsel Salvana; edsel.salvana@gmail.com
Makati Medical Center
Francis Chung; fchu008@yahoo.com
---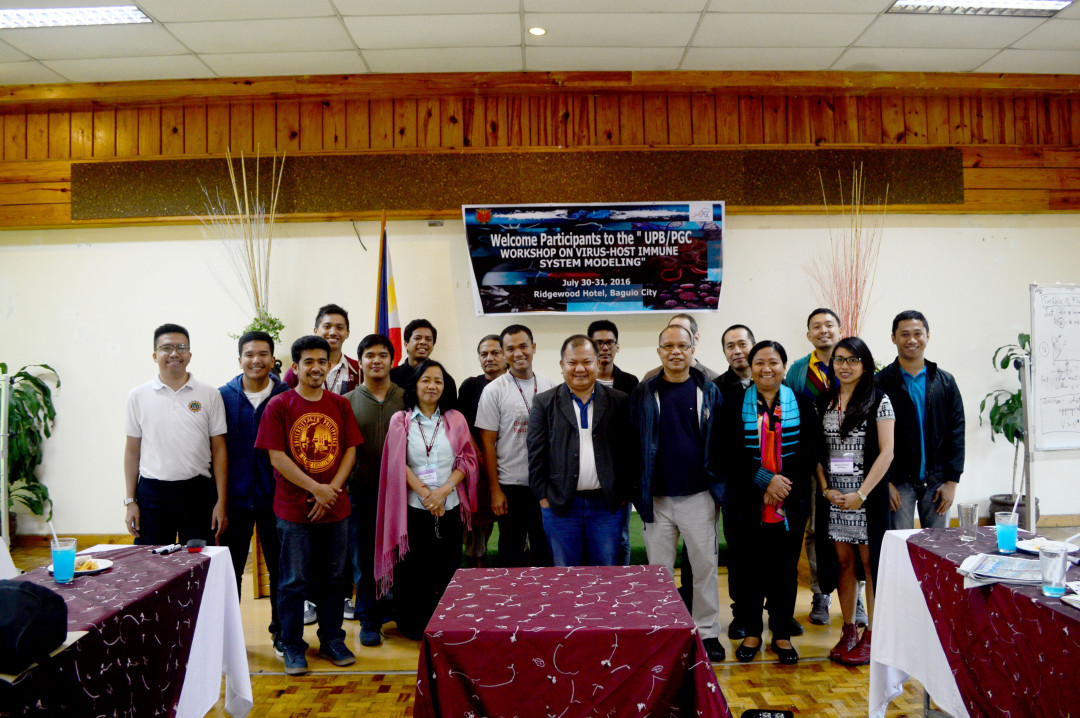 ---