On February 22, the Core Facility for Bioinformatics of the Philippine Genome Center is conducting a lecture titled 'Introduction to Next Generation Sequencing Data Analysis' from 8 AM to 6 PM in the AVR, The Marine Science Institute, University of the Philippines, Diliman, Quezon City.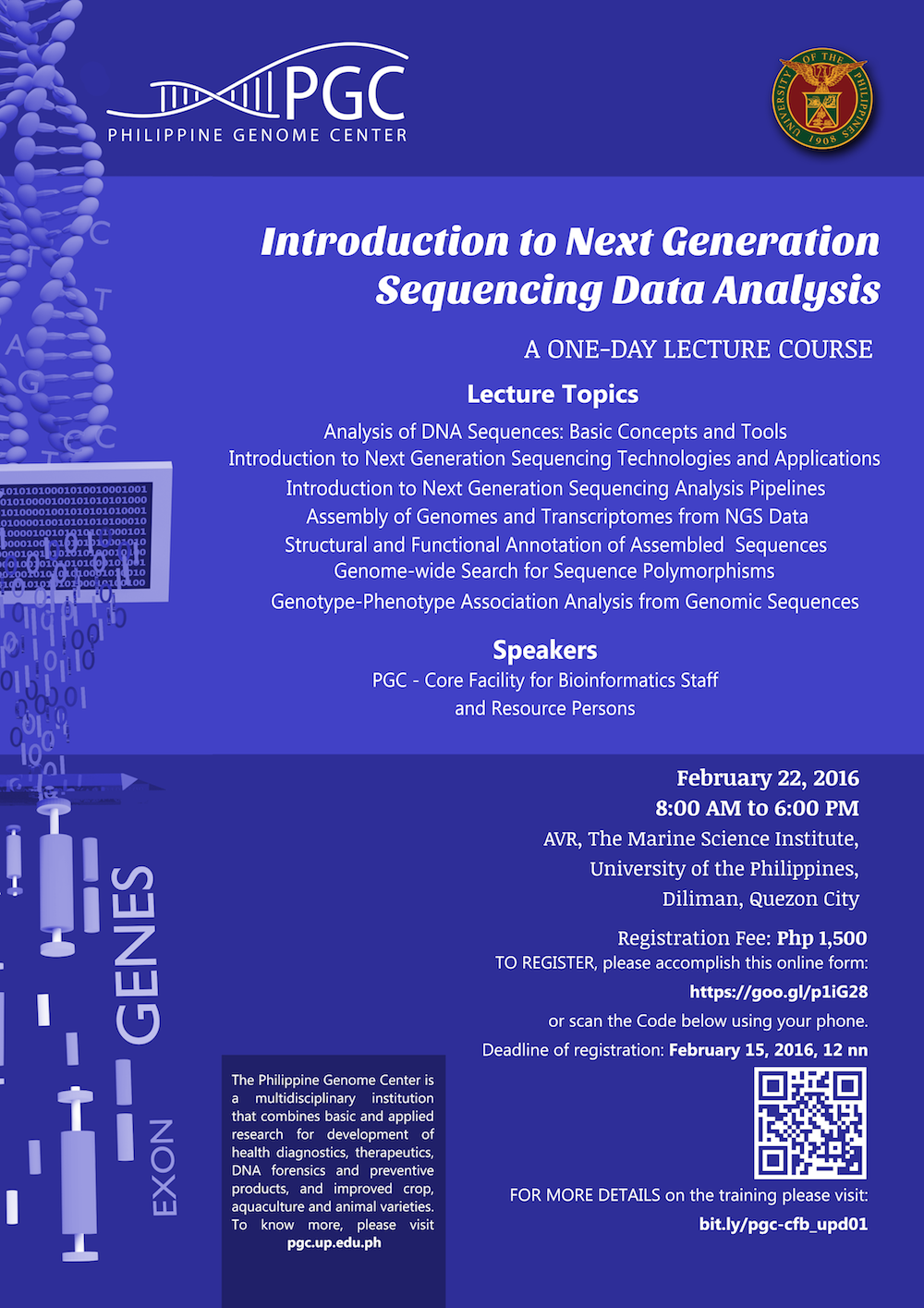 This course will provide a synoptic view of the different stages of next-generation sequencing (NGS) data analysis, introduce the workflow concept that is critical in such analyses, and present an overview of potential approaches for such analyses. It is open to researchers, faculty members, students, and other interested individuals in the fields of biology, molecular biology, microbiology and biotechnology, mathematics, statistics, chemistry, computer science, and physics.
Lecture topics include:
– Analysis of DNA Sequences: Basic Concepts and Tools
– Introduction to Next-Generation Sequencing Technologies and Applications
– Introduction to Next-Generation Sequencing Analysis Pipelines
– Assembly of Genomes & Transcriptomes from NGS Data
– Structural & Functional Annotation of Assembled Sequences
– Genome-Wide Search for Sequence Polymorphisms
– Genotype-Phenotype Association Analysis from Genomic Sequences
To pre-register, please accomplish this online form: https://goo.gl/p1iG28.
Deadline of registration is at 12 NN of 15 February 2016 (Monday). Participants will be limited to 60, and will be screened based on need and merit. Confirmed participants will be notified by 3 PM of 18 February.
Registration fee is P1,500, and includes training kit, meals (AM snack, lunch, PM snack), and training certificate. Payment options may be found at pgc.up.edu.ph/index.php/modes-of-payment.
*Reminder: Do not settle your payment until your slot has been confirmed.