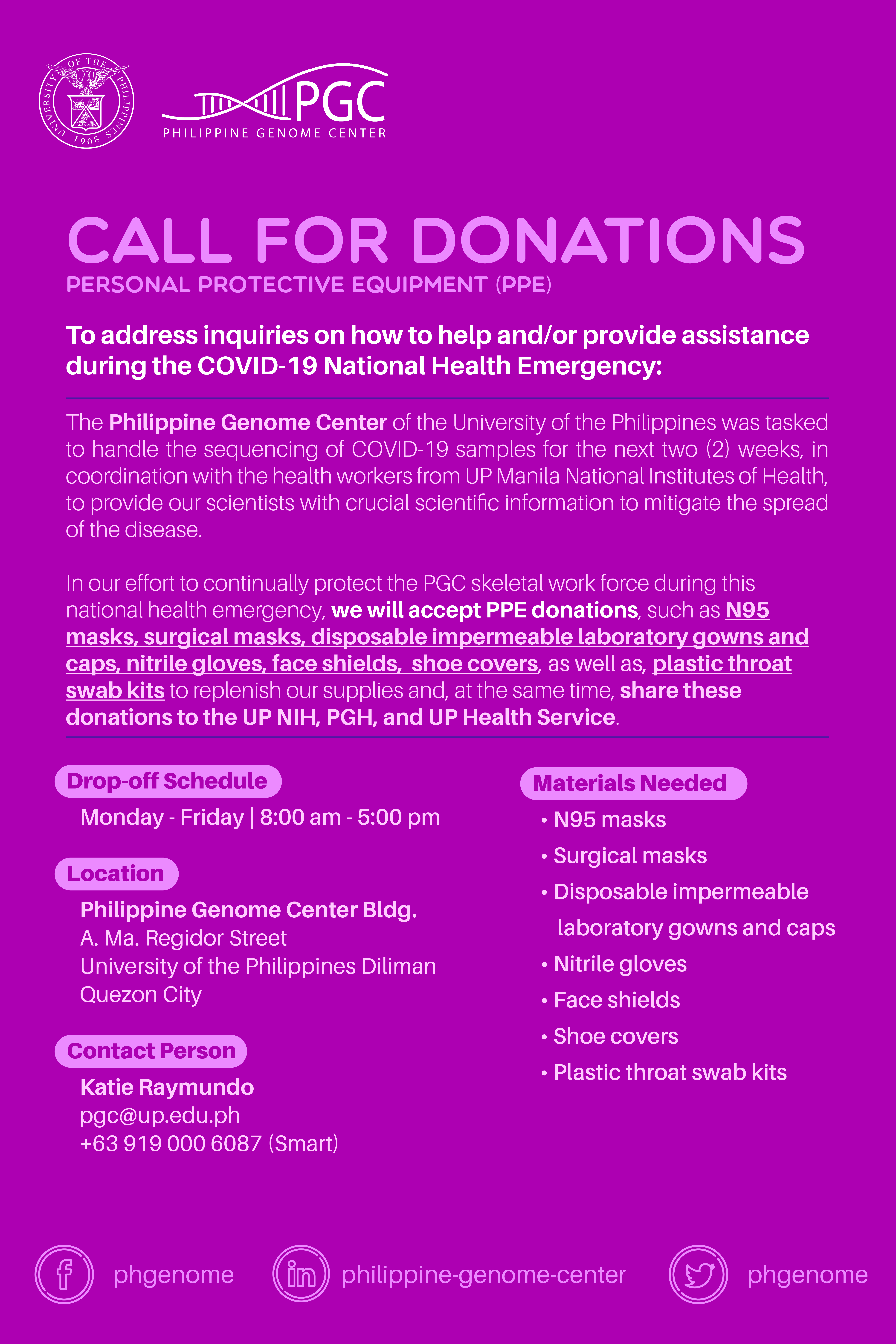 The Philippine Genome Center of the University of the Philippines was tasked to handle the sequencing of COVID-19 samples in coordination with the health workers from UP Manila National Institutes of Health, to provide our scientists with crucial scientific information to mitigate the spread of the disease.
In our effort to continually protect the PGC skeletal workforce during this national health emergency, we are accepting Personal Protective Equipment (PPE) donations, such as:
N95 masks

Surgical masks

Nitrile gloves

Disposable impermeable laboratory gowns and caps

Face shields

Shoe covers
These donations in kind will be used to replenish our supplies and will be shared to the NIH, PGH, and UP Health Service. Contact Ms. Katie Raymundo via 09190006087 (Smart) or send an email to pgc@up.edu.ph for inquiries and to coordinate donations.
The Philippine Genome Center extends its gratitude to the community's continuous support in addressing the current national health emergency.
---
[UPDATE] The Philippine Genome Center's Clinical Genomics Laboratory (CGL) is an accredited COVID-19 (SARS-CoV-2) testing facility by the Department of Health (DOH) to conduct testing by Real-Time PCR.
The reconfiguration of the PGC labs and its completion of the five (5) stages of lab capacities accreditation enabled the genome center to receive its certification from the DOH and RITM.
PGC has also took part in the kit validation and field testing of the locally-developed GenAmplify rRT-PCR Detection Kit. In addition, through its Core Facility for Bioinformatics, PGC released via GISAID database six (6) viral genome sequences of the SARS-CoV-2 from COVID-19 cases between March 22-28, 2020 in Metro Manila.
PGC is open to much-needed support to continuously facilitate its operations for COVID-19 testing.
We thank our donors for enabling the genome center provide its services to the public.